Conferences & Events

Harmful Algal Bloom Virtual Research Symposium in early January
January 4, 2024

-

January 5, 2024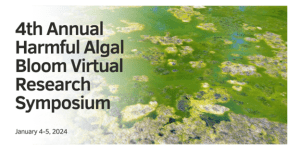 The Algal Bloom Action Team of the North Central Region Water Network is once again hosting their Virtual Harmful Algal Bloom Research Symposium on January 4th and 5th.
This free, virtual event brings together over 800 water professionals from across the North Central Region to hear about the latest harmful algal bloom (HAB) research, discuss examples of effective bloom management, and learn about the latest technologies being used to tackle this global issue.
The North Central Region Water Network is comprised of 12 Land-grant colleges and universities, including the U of MN Extension, U of WI Extension, and the MSU Extension.
The Algal Bloom Action Team offers a series of Educational Resources on their webpage that you may find valuable, including HAB FAQs, factsheets, prevention and treatment options, and more