Conferences & Events

MSU again offers Introduction to Lakes Online course
January 29, 2024

-

March 30, 2024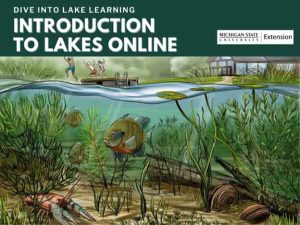 Registration for the award-winning Michigan State University Extension Introduction to Lakes Online course is now open! Our own Jim Kutzner took this on-line course 2 years ago and thought it was highly valuable and completely relevant to Minnesota Lakes.
This introductory six-week online course kicks off January 30th and is designed for anyone interested in inland lakes including concerned residents, decision makers, local leaders, and lakefront property owners. Course instructors include faculty from MSU Extension and state agency personnel.
Course topics include lake ecology, watershed management, shoreline protection, aquatic plants, Michigan water law, and community engagement. These six topics are explored online through video lectures, interactive activities, and discussion forums. Additional resources are also provided for those looking to dive deeper into a topic. Participants communicate with each other and instructors through lively discussion forums and biweekly Ask-an-Expert webinars which include guests from organizations such as the Michigan Department of Natural Resources and the Michigan Department of Environment, Great Lakes, and Energy.
Registration is open now through January 28, 2024. The cost of the course is $115 per person. Register by January 12, 2024, for an early bird price of $95 per person.