Governor Walz and DNR leadership kicked off 2023 at the DNR Roundtable on January 20, 2023, with their proposed 2024-25 budget and goals for the current Legislative session.
2023 MN DNR Roundtable Opening Conversation: L-R DNR Commissioner Sarah Strommen, Governor Tim Walz, and Ann Mulholland, Nature Conservancy Chapter Director for MN, ND, and SD.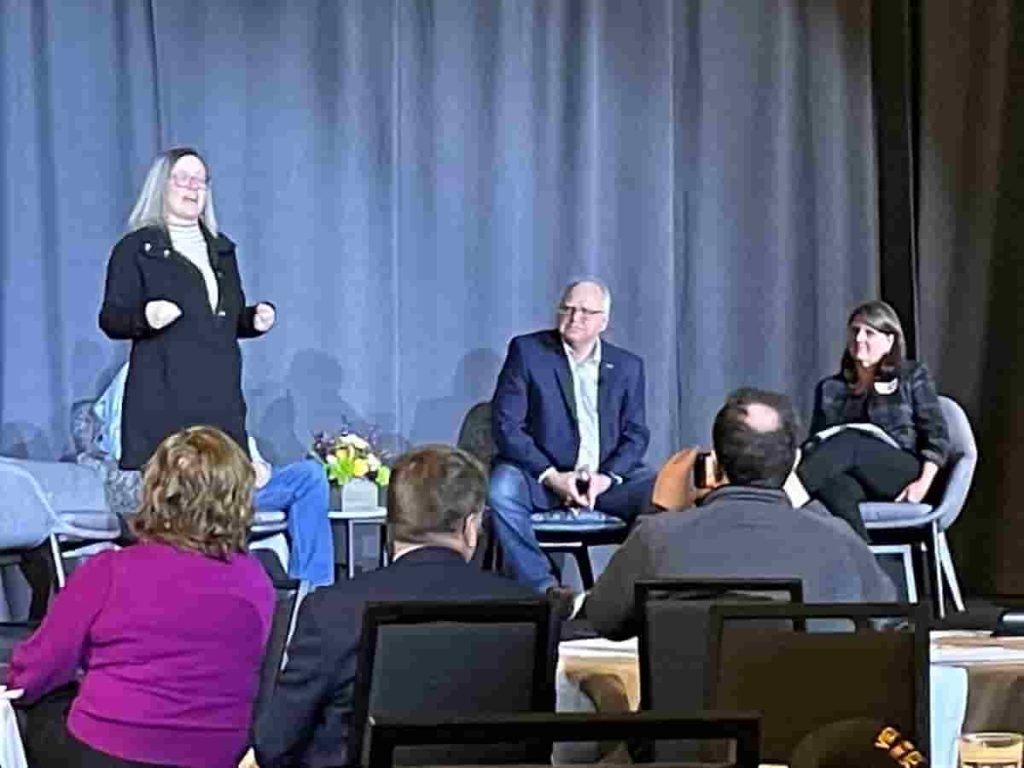 The Minnesota DNR held its annual Roundtable event in Bloomington on January 20th with the theme of "Minnesotans Working Together – The Key to Conservation Success."
Governor Tim Walz headlined this year's event attended by DNR and professionals from a variety of interests delivering an upbeat picture of where we are and where we need to go. The event also included breakout sessions built around the themes of building partnerships to better coordinate all efforts, and getting people, especially kids, out to enjoy our public land and water.
Governor Walz began his well-received presentation by describing his administration's push for improvements in early child development and education. He cited "it starts with the children" noting studies showing that social and emotional health improve with getting kids out of the house and into the outdoors, briefly mentioning school fishing clubs as a component in moving children and young adults outdoors. But to succeed, they need a good environment with positive experiences once they get outdoors. So, continuing along the lines of its "No Child Left Inside" program, the proposed "Get Out MORE" investment of $118M would enhance access to public lands and outdoor facilities. Campsites and boating access points would be updated, the state's fisheries and fishing infrastructure would be enhanced and updated, and the emphasis on cleaning and restoring a number of streams would continue as an important initiative.
Walz continued with topics including climate adaptation and mitigation along with funding efforts. His proposed $46M budgetary item would fund programs to restore wetlands on state-owned lands to capture and hold more carbon. Also included are funds for reforestation, accelerated tree seed collection, restoring streams, and protecting and restoring peatlands for increased carbon capture.
The Governor noted that the "For The Outdoors" program which began in 2021, is working to determine "what Minnesotans value for the future of conservation and outdoor recreation" and identify consistent funding sources through a University of Minnesota study.
Walz noted the importance of the fishing industry in Minnesota, comparing an estimated $4.4B fishing industry with the estimated $4.5B pork industry. He expressed a desire for the outdoor programs announced today to be a 'generational investment' that needs to be measured and optimized, and he hinted at more announcements to come by May. Walz emphasized he measures his priorities not by phrases such as "it is a good thing to do" but weighs projects on the "Why" do the project and the cost-benefit of each activity.
Governor Walz ended his presentation speaking of Minnesota's bright future with water resources, carbon reduction through our forests and peatlands, the recreational value of our natural assets, and the positive impression visitors to our state leave with that bring them back repeatedly.
Before leaving the stage, Governor Walz presented a plaque and proclamation to the recently retired head of Pheasants Forever, Howard Vincent, for years of partnership work between Pheasants Forever and the Minnesota Department of Natural Resources in preserving open spaces and providing recreational opportunities.
As another interesting highlight from the Roundtable, Duluth Mayor Emily Larson spoke on the partnership successes Duluth has with the State of Minnesota. She was especially proud of the restoration of the St. Louis River and encouraged visitation to it where just a few feet off the riverbed and you would think you were in the Boundary Waters. She went on to mention the high degree of positive survey feedback from the vast number of people that visit Duluth time after time, citing the outdoor woods and waters atmosphere as the primary attractions.
MN COLA executives Blaine Barkley and Jim Kutzner were there and provided this update.