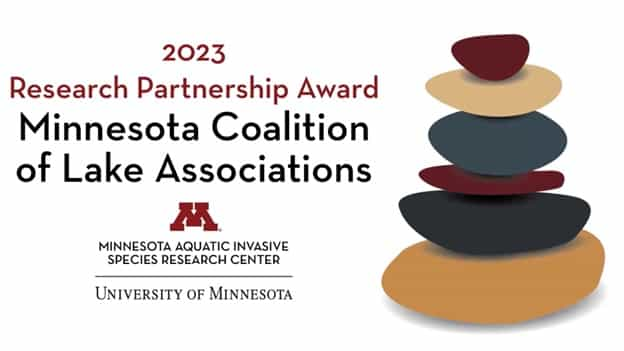 Dr. Nick Phelps, Director of the Minnesota Aquatic Invasive Species Research Center (MAISRC), presented MN COLA with their 2023 Research Partnership Award for an organization.
Nick commented that "MN COLA has been an advocate for research-based solutions to our AIS problems from MAISRC's beginning. From your docks to the State Capitol, you are out there; speaking the good word and trying to get important work done." Nick also highlighted lake associations and COLA's valuable help to MAISRC project teams, MN COLA's help in disseminating research findings, and MN COLA's advocacy for research and funding at the legislature.
Joe Shneider accepted the award on behalf of MN COLA and commented that "MAISRC is so vitally important for AIS prevention and control in Minnesota and far beyond. Their work is helping us better understand AIS infestations, what we can do now, and what might be possible in the future. We in Minnesota are so fortunate to have the kinds of access we have to the researchers and their ideas."
MAISRC gives out Research Partnership Awards for individual partnership contributions and to local government partners in addition to the award to an organization.