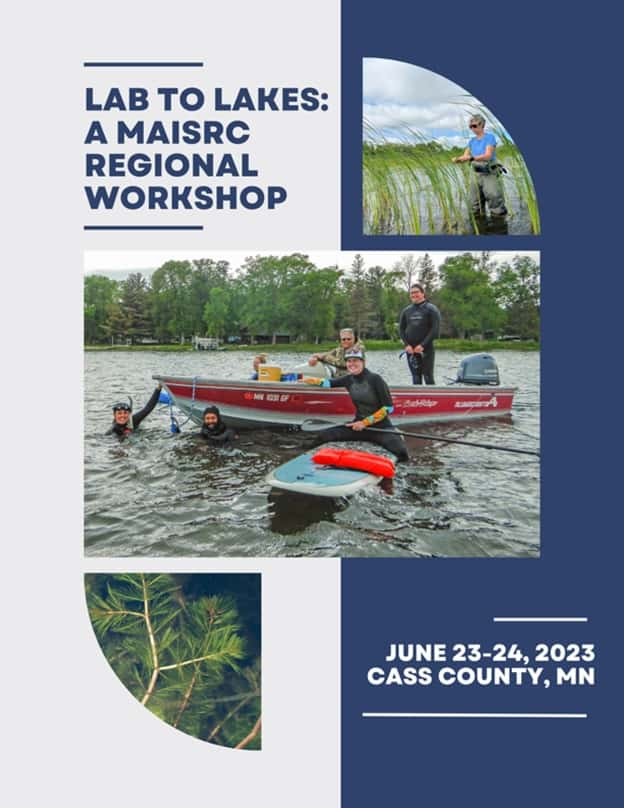 The University of Minnesota AIS Research Center (MAISRC) held their first Lab to Lakes Regional workshop on June 23 and 24 in Cass County Minnesota. A wide variety of sponsors helped make this workshop a success (see graphic below.)
After a stirring perspective on the concerns for protecting the water from a leader of the Leech Lake Band of Ojibwa, MAISRC Director Nick Phelps outlined the 2-day conference. Day 1 provided some highlights of MAISRC Lab projects of specific interest to the local geography, discussions of several local AIS success stories, and ending with a panel discussion on civic governance… a requirement for making projects happen in the complicated control for water. Day 2 was reserved for field trips to see project results in action.
It was great to see the lake associations working side-by-side with government organizations to protect the precious public waters of the area.
MN COLA was recognized several times in the discussions, and we were pleased to be a supporting sponsor. Jim Kutzner, Jim Gray, Blaine Barkley, and Joe Shneider attended on behalf of MN COLA.