The MN COLA Membership meeting on September 19th was exceptionally content rich with the best meeting attendance ever. We heard about the impact of climate change on Minnesota, a new Watercraft AIS Cleaning Stations and Tools project, a special award for MN COLA, and our focus for the 2024 legislative session.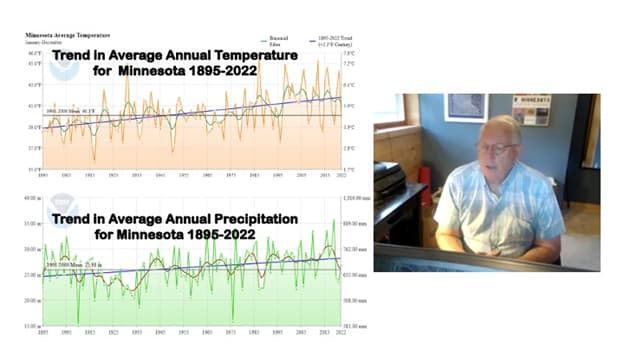 If you were not able to make the MN COLA September 2023 Meeting, here is a quick summary of the great information:
Dr. Mark Seeley, renowned climatologist/meteorologist from the University of Minnesota, gave us a eyes-wide-open presentation about climate change, with a focus on Minnesota. There is a high degree of climate variability, and in particular, Minnesota is experiencing higher temperature and rainfall erraticism. Mega rains are more frequent and higher dew points are preventing cooling. Lakes are warming—particularly shallow lakes, and there is less ice cover in the winter.
Cass County Association of Lakes and Cass County Soil and Water shared a fantastic Best Practice in Action—their Watercraft AIS Cleaning Stations and Tools. By leveraging DNR relationships, strong project management, and deep engagement from a large stable of volunteers, over 55 cleaning stations have been installed in Cass County.
Clap and cheer! MN COLA has been selected as a Partner of the Year by the Minnesota Aquatic Invasive Species Research Center Research (MAISRC). We are delighted and honored to be recognized.
Legislative focus for 2024 – We had a robust conversation regarding the 2024 legislative focus; topics and strategy were fine-tuned, Clearly, the impacts of enhanced wakes are top of mind for MN COLA. Other subjects include AIS compliance, 2nd tier lake developments, AIS Prevention Funding, and sustaining funds for MAISRC.
The meeting concluded with our signature Round Robin session—a chance to chat and share what is on your mind. Hot topics included starry stonewort strategy, drainage issues, and regulations requiring an observer during towing.
A recording of Dr. Seeley's portion of the meeting will be made available soon on the MN COLA website, under the Lake Resiliency section.
All are welcome to MN COLA Member meetings; the next meeting (Zoom) is Tuesday, December 5th—watch for more details!